Two years ago in spring training young outfielder Moises Sierra, coming off a good year at Class A Lansing, impressed a lot of people not only with his bat but with his strong outfield arm.
That arm has led the club to experiment with Sierra at third base.
"It's exploratory," said general manager Alex Anthopoulos.
Alright enough already. He`s on the 40 man roster and he`s never played above AA ball. Forget 3rd base. Forget hitting. Let`s see if he can pitch.
4. Toronto Blue Jays
. Toronto got good in a hurry. There isn't a can't-miss prospect in the bunch, but it's a strong top 10, with the top five likely to appear in my top 100 prospects, and there is plenty of talent throughout the system that is waiting for recognition.
1.
Brett Lawrie
/ 3B/2B/OF
2.
Kyle Drabek
/ SP
3. Deck McGuire / SP
4.
J.P. Arencibia
/ C
5.
Chad Jenkins
/ SP
6.
Travis D'Arnaud
/ C
7.
Carlos Perez
/ C
8. Adieny Hechavarria / SS
9.
Zach Stewart
/ RP/SP
10.
David Cooper
/ 1B
Yet another top 10 list for ya. I`m waiting not so patiently for this one.

Dear Brett,

I have already placed so many of my hopes for the Blue Jays future on your youthful shoulders. Your left-handed-right-handed swing gives me chills. Your youthful athleticism gives me comfort that you can adjust to an infield home, and offer significantly more value to the team going forward.

That said, I've just returned from your likely future home (Las Vegas, Nevada)

I've also realized that while you are in the aforementioned Vegas, you will turn the delicate age of 21.

Now, like a good Canadian boy, I'm quite sure that you are already drinking regularly (For those of you who are unaware, the drinking age in most Canadian Provinces is 19) and I'm sure you've developed an excellent tolerance. Your tolerance will count for nothing in the dry, desert heat. Your willpower will be tested (repeatedly) and you may even end up with more Eminem lyrics tattooed upon your juvenile limbs.

The 5th Starter sends an open letter to Brett. Fantastic stuff.
2011 Toronto Blue Jays Promos and Giveaways
Another pitiful season of Toronto Blue Jays giveaways and promotions. Outside of opening day, the Jays are giving away only 50,000 promo units ALL season!

The boys over at Mop Up Duty call out the cheap bastards @ Rogers for their weak giveaways and promo schedule for this year coming.
Speaking of those B-Games, the Blue Jays released their schedule of extra contests. The club will play all three of their B games against Philadelphia, which makes sense since the Phillies play in neighboring Clearwater, Fla. The two clubs will take the field on Feb. 26, March 2 and March 17. The first regular game of Spring Training is Feb. 26 at the Florida Auto Exchange Stadium against the Detroit Tigers.
B-Games are the shit! (That means they are good) Normally they take place at remote high school like ballparks and they can't sell tickets for them. If anyone is lucky enough to be going down for Spring Training keep these dates in mind.
Around the OOTP offices, we're looking forward to two events in April: Opening Day and the expected shipping of Apple's second-generation iPad. It may not have been announced yet, but we all know the next iPad is coming, and one lucky fan who pre-orders Out of the Park Baseball 12 by February 28, 2011 will receive one.*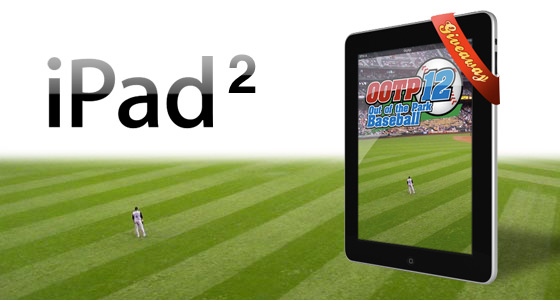 Our lucky winner
will also take home a copy of iOOTP
, which will bring the excitement and realism of OOTP to iPad, iPhone®, and iPod touch® when it steps up to the plate at the iOS App Store this spring.
Last year I got my hands on a copy and did a sim for the 2010 season. Click here to see the results. *Spoiler alert* it predicted the Giants win of the World Series. Hopefully again this year I`ll get the opportunity to do another sim and report the results prior to the game going on the market. Stay tuned for that.
My name is Ryan Shopshire and I will begin writing my blog exclusively at Through The Fence Baseball. This is my first time writing a blog so the more input that you readers give me the better. First I want to tell everybody a little about my baseball background. I am a so-cal boy born and raised in the most beautiful place in the states, Orange County California. I played my high school years at Orange Lutheran High School, a premier power house. After high school I accepted a scholarship at Long Beach State to play for the Dirtbags. My freshmen year there I experienced my first injury playing baseball (a stress fracture in my throwing elbow) and made me miss my entire season. At the end of the season exit meetings the coaches decided that Long Beach would not be my home the following season. This was a big blow to me because this was my first choice school out of high school.
Rock solid blog. One of our prospects is doing an exclusive with them. You should probably be following along.
An idea
shamelessly stolen
researched from
James Kannengieser at Amazing Avenue
. Baseball-Reference counts page views player and team pages and they list the top 200 pages
here
. Here are the Jays and former Jays that are in the top 200:
| | | | | |
| --- | --- | --- | --- | --- |
| Rank | Player | Page Hits | Jays WAR | Career WAR |
| 14 | | 336245 | 47.4 | 54.3 |
| 16 | | 316167 | 0.2 | 18.7 |
| 26 | | 256654 | 7.6 | 5.9 |
| 45 | Rickey Henderson | 184966 | 0.3 | 75.3 |
| 62 | | 160101 | 17.8 | 74.8 |
| 69 | Roberto Alomar | 151833 | 20.1 | 63.5 |
| 83 | | 137041 | 7.4 | 25.1 |
| 95 | | 127891 | 1.7 | 70.6 |
| 112 | | 114616 | 9.5 | 8.4 |
| 114 | Fred McGriff | 113753 | 18.9 | 50.5 |
| 124 | | 110531 | 0.1 | 0.1 |
| 135 | Chris Carpenter | 106164 | 6.8 | 28.6 |
| 137 | | 105853 | 0.4 | 8.6 |
Kyle Drabek could crack the top 100 before the end of his first season in the big leagues. Lotta Buzz.
1. Joe Carter, 1997 Blue Jays: .234/.284/.399 (-25 rbat), 102 RBI
For Carter, 1997 was his last full season and his worst, but in addition to No. 1, he also occupies spots 11, 15, 47, 105, 129 and 139 on the list. Carter was a more athletic and longer-lasting version of Armas. The Jays plugged Carter into either the number three or four spot in 157 of their 162 games in '97, where he cost them significantly in runs and wins on both sides of the ball despite the RBI.


Shame on you stats dorks for hating on Joe. Why don`t you take this and shove it up your ass.
"What AstroTurf's
press release
didn't tell you is the real reason why Tampa Bay is installing their product — they are getting a free field."
FieldTurf says AstroTurf's three-year licensing deal with MLB Properties includes a provision that gives a free AstroTurf carpet to the
Rogers Centre
, the Toronto Blue Jays stadium in Toronto, plus a new field for the Rays at the Trop.
The Rays agree they're getting a freebie.
If I were the cost-conscious Rays, I'd grab that deal, too.
FieldTurf president Eric Daliere says his company was approached by Major League Baseball with a like licensing offer, but declined it.
"We were not willing to have them subsidize free fields or large royalty fees. When Tampa Bay and Toronto paid for turf, they chose FieldTurf," Daliere said. "We would encourage any clients looking to obtain a baseball field from AstroTurf to ask for the same deal that Toronto and Tampa Bay got."
So the turf was free after all eh? No shit. Check out the bullshit the cheap bastards @ Rogers were saying back then as to why they made the switch.
After his manager denied he was hurt, Toronto Blue Jays outfielder Travis Snider revealed Sunday that he has been held out of workouts for the past week because of a rib-cage injury suffered while playing golf.
In a media scrum a few minutes earlier, manager John Farrell alluded vaguely to Snider missing drills because of "a little bit of tightness in his overall core." Asked if the tightness was the result of an injury, Farrell replied: "No, no, no. Just bringing him along a little slower."
But after undergoing treatment in the trainer's room, Snider told reporters he "tweaked something" in his left upper rib cage while playing golf about a week ago. It did not bother him immediately, he said, but tightened up the next day.
Both Snider, the Jays' starting left-fielder, and Farrell suggested the injury was relatively minor. The 23-year-old left-fielder said his condition has improved, but "not significantly," and he can neither swing nor throw at the moment.
"We don't expect him to be way behind or certainly not delayed," Farrell said.
No more golf kid. Baseball time.
Manager John Farrell watched over the bullpen sessions of his pitchers Sunday and two of them caught his eye.
Left-hander Jo-Jo Reyes, a candidate for both the starting rotation and bullpen, and right-hander Jesse Litsch, a leading contender for one of the two spots in the back of the rotation.
"Jo-Jo Reyes continues to throw the ball very well," said Farrell. "A guy who was a highly touted prospect with Atlanta before being sidetracked with a knee injury, in the early sessions he's thrown the ball very well. ...
"I thought Jesse Litsch threw the ball well today. It's become more evident, just the repair of the hip and the surgery on the elbow a couple of years ago, he's been free and easy and is throwing the ball good."
I just wanted to point out that I picked these two guys to fill out the 4 and 5 spots in the rotation for the 25 Man Roster Challenge. I`m the only person to do so.
Nebraska baseball coach Mike Anderson said Tuesday that freshmanpitcher Logan Ehlers, still waiting for the NCAA to make a decisionon his eligibility status, will not travel with the Huskers to thisweekend's season-opening round-robin tournament at Texas State inSan Marcos, Texas.
At question is whether the left-hander from Nebraska City -- whoin August turned down $800,000 to sign with the Toronto Blue Jays'organization two months after he was drafted in the eighth round --violated an NCAA bylaw that pertains to the use of advisersthroughout the bargaining process. The NCAA allows such arelationship, but prohibits advisers from having contact withmajor-league organizations during contract negotiations.
Anderson said the school and sanctioning body have hadback-and-forth communication, but the NCAA has yet to provide itsruling in writing.
The Paxton Affair - which is still going on - now has some company. WTF is going on with kids that don't sign with us? Two different players in back to back years? Can't be a coincidence.
Cosentino began working with the Blue Jays as a bat boy in 1987 and has been involved with the team in some capacity for most of the time since then. He will continue to work for Rogers on the network's junior hockey broadcasts.
"I'm extremely disappointed that Rogers Sportsnet has decided to remove me from broadcasts," Cosentino said during a phone interview Wednesday. "But in our most recent discussions, we've been talked about increasing my role and my exposure in hockey and I'm excited about that opportunity."
The departures leave play-by-play man Buck Martinez and analyst Pat Tabler to handle the Blue Jays games.
I can deal without Rance always harping on our hitters to "be aggressive early in the count" but I think I'm gonna miss Sudden Sam. He brought some energy to the broadcasts.